5 Ways You Can Improve Your Wellbeing Right Now
Now that the shine of the new year has worn off and those resolutions have well and truly fallen by the wayside, it's easy to get stuck in a funk. Whether your diet has gone off the rails or you haven't achieved what you hoped you would've by now, we know just how hard it can be to get back on that wellbeing wagon.
Thankfully, you don't have to wait till 2020 rolls around before you resolve to put yourself first - we've got five easy-to-follow pieces of advice to start improving your mental and physical health right now.
1. Nourish Your Body
A common mistake we all make when trying to eat healthily is that we jump head-first into our new diet without easing into it.
If you're as much as a sucker for a good bit of comfort food as we are, you'll know that quitting cold-turkey only exacerbates cravings and, more often than not, results in a binge session of epic proportions.
Instead, slowly introduce healthy ingredients by making swaps, like popcorn instead of chips, spiralised veggies instead of pasta, greek yogurt with honey or berries instead of ice cream... you get the gist. Sure, they're not as good as the real thing, but it's far better than going without.
2. Get Moving
We all know why exercise is so essential for our physical wellbeing, but people often forget just how good it can be for the mind, too. According to Beyond Blue, getting sweaty promotes the release of feel-good endorphins and serotonin and can even improve sleep quality.
If the idea of slogging away at the gym fills you with dread, don't give up. There are plenty of ways to stay active, it's just a matter of finding something you enjoy.
Think outside the box - if soccer, netball, tennis, and all the usual suspects aren't for you, why not try rock-climbing? Or ballroom dancing? Or self-defence classes? Even doing the chores (depending on how vigorous they are) can count towards your activity goals. While you're at it, why not rope in some mates to make exercise fun and social?
3. Make Time for Self-Care
Repeat after us: Self-care doesn't equate to being selfish. There's no reason to feel guilty over taking care of numero uno. In fact, by looking after yourself, you'll become a happier, calmer and more positive person for others to be around.
Self-care looks different for everyone, so it might take some trial and error to find what works for you. It could be as simple as popping on a sheet mask and taking a nice, hot bath. It could be taking 10 minutes out of your day for a bit of mindful meditation or yoga. If it makes you feel good, it's self-care.
Speaking of feeling good, if you're in need of some intensive relaxation and a warm bath simply won't cut it, get yourself down to the salon and indulge in a well-deserved pampering session - we're talking massages, facials, foot spas... don't mind us, we're just daydreaming.
In the immortal words of Tom and Donna from Parks and Rec: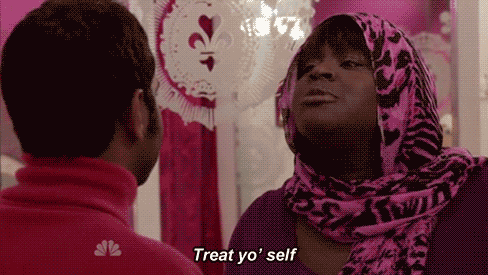 4. Keep Your Brain Sharp
If there's one thing that's sure to enrich your life, it's education. No, we're not going to tell you to go back to uni or TAFE - that being said, kudos to you if you decide to! There are plenty more ways to keep your grey matter in tip-top shape than sitting in a class.
Whether you're looking to upskill for work or simply want to learn something new, online courses are a great way to improve your mental wellbeing, offering flexibility and affordability.
For more casual learners, all you need is your phone, tablet and an internet connection. Duolingo is a great app for those wanting to pick up another language, while TED brings incredible talks from the world's greatest thinkers right to your screen. The best part? Both are completely free!
5. Always Have Something to Look Forward To
You know that feeling you get after returning from an amazing holiday only to come to the depressing realisation that it's over? Well, you'll be happy to know that feeling is totally avoidable.